Yixin in the Final of the Russian Championship 2017
Background
Recently there was a discussion about the concept of positional play on VK. To shed light on whether positional play is effective or not, people organized a 2-game match on the Internet between Yixin which looks like a tactical player and Denis Osipov who is believed to be one of the best positional players. The result of the match is Yixin won 2 games. After that, people organized another game between Yixin and Gergo Toth, and Gergo won the game. (link to the discussion of the 3 games)
I was informed of the result by friends after each match. Although I didn't care about the discussion about different playing styles, I did care about the result of the games. However, the result didn't make a lot of sense to me because of the slow hardware, weak version and the not-so-balanced opening rule (it's not a real Swap-2). Specifically, the speed reported by Yixin on their computer was only 300-400; the version used in the game is a 2-year old one which has serious bugs for the standard rule. In my opinion, Yixin would have much better performance if they could either use the 2017 Demo or contact me to have a formal match against the latest full version. Actually, I don't believe human players could outperform the latest full version running on a powerful computer.
On June 8th, Alexander Bogatirev told me that he was in the organization committee of the Final of the Russian Championship, and he proposed to organize a better AI-vs-human match during the event. I thought it's a good idea, so I accepted the proposal and promised to offer a powerful computer to run Yixin remotely.
Match Settings
Number of Round:

3 for Nikonov Konstantin
1 for Makarov Pavel

Rule: Swap-2
Time Control:

90 min/game + 30 sec/move (Yixin vs Nikonov Konstantin)
10 min/game + 30 sec/move (Yixin vs Makarov Pavel)
Human player's time is counted by a table clock; Yixin's time is counted by itself

Computer: Dual E5-2683 v3, 64GB RAM, Windows 10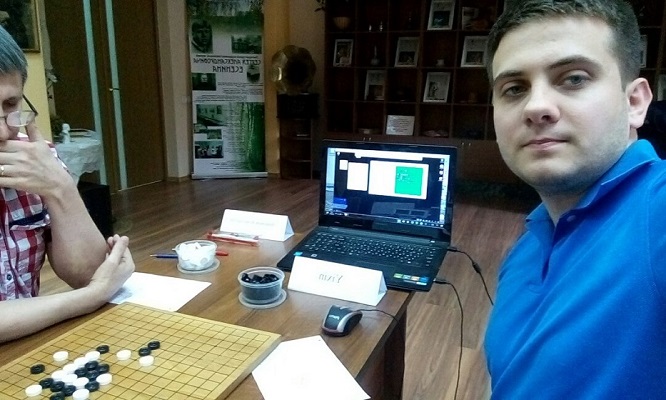 Fig.1 The operator -- Alexander Bogatirev, who helped copy the AI's moves to the board, and human player's moves to the computer.
Games between Yixin and Nikonov Konstantin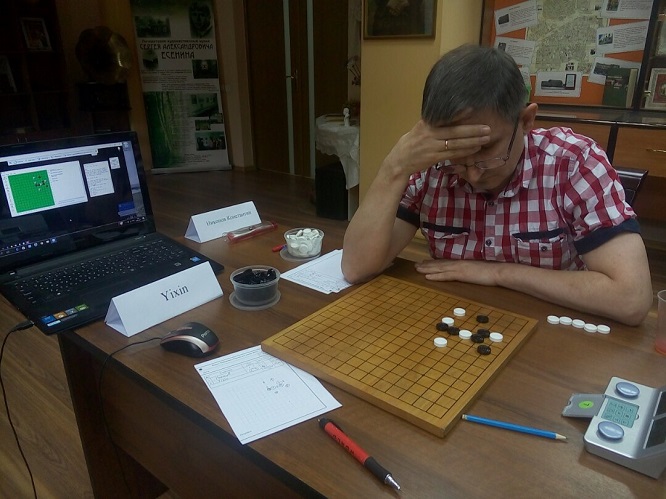 Fig.2 Nikonov Konstantin is thinking.
Round 1:
Black: Yixin
White: Nikonov Konstantin
Swap: Two more stones, -
Result: Black wins
l13l10m11n11n9j11k10j13j10k8m10k11m9m8j9l11k9l9l8i11h11h9g8h7f8h8h6g7j6k7j7j8l6k6k5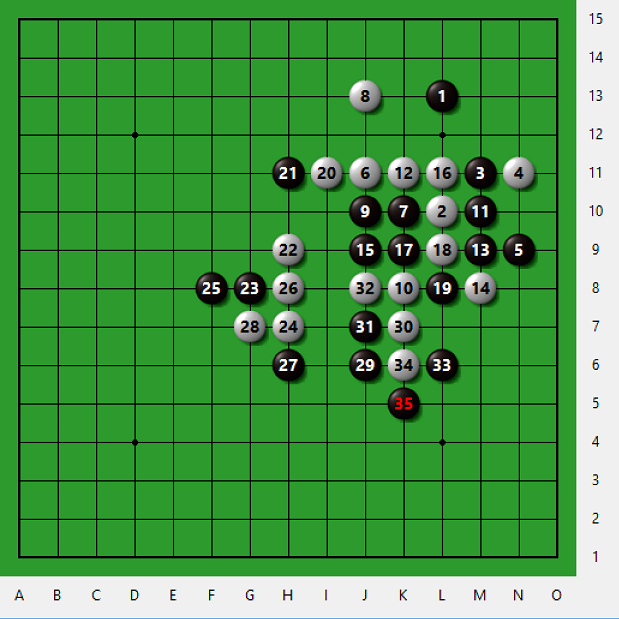 Round 2:
Black: Nikonov Konstantin
White: Yixin
Swap: +
Result: White wins
d12c10c8f11f10e11g11e9e12d10g12f12g13g10e8c9b8d8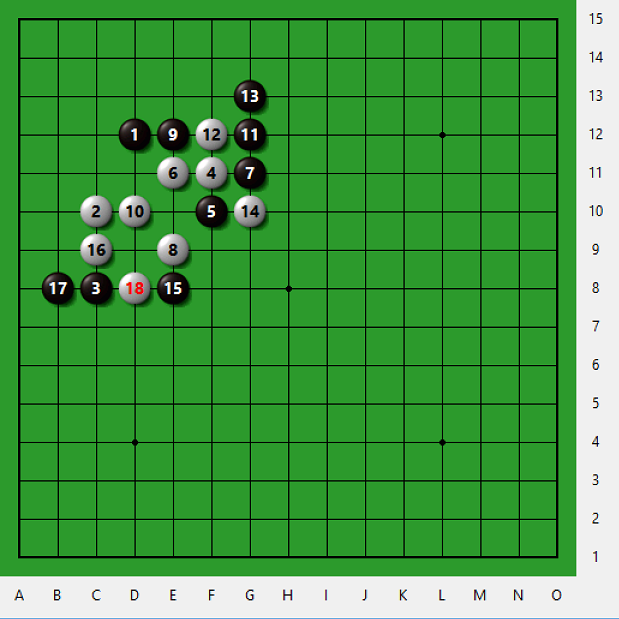 Round 3:
Black: Nikonov Konstantin
White: Yixin
Swap: Two more stones, +
Result: White wins
l13l10m11m15j15k10m10m12i10j11i12j12l11k11i13i11k13j13j10k8k9m7l6g9g11f10h8f9f11m8m9h9i9l9n7f8h10j8i8f7f6g7e9g8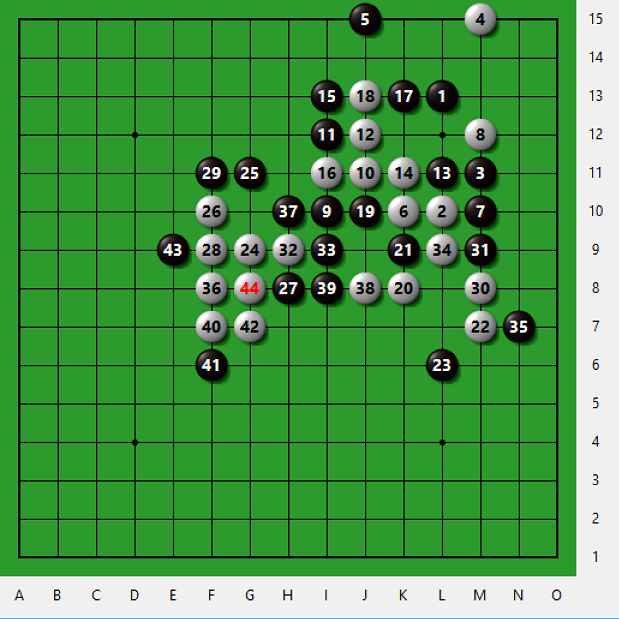 The Game between Yixin and Makarov Pavel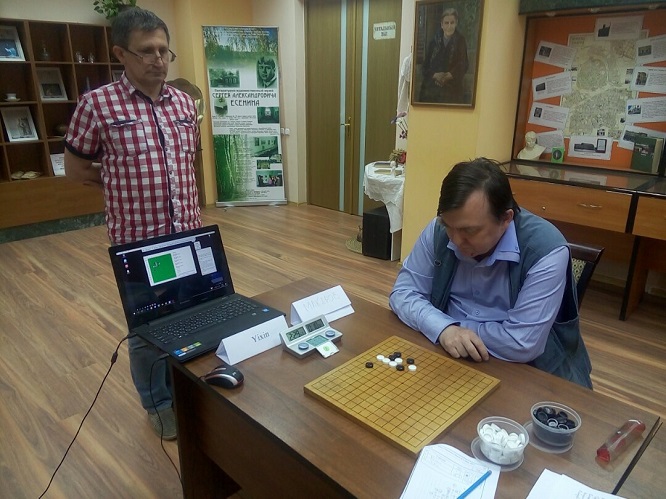 Fig.3 Makarov Pavel is thinking.
Black: Makarov Pavel
White: Yixin
Swap: +
Result: White wins
d12c10c8e10d11d10f10e11f12g11e9e8f11f9g10e12g8f7d9f6f5g6h6d6c6e7d8c5b4b10a10g7d7e5d4h4c7b6g3i4h5e4e6g4f4i3g5i7h7h8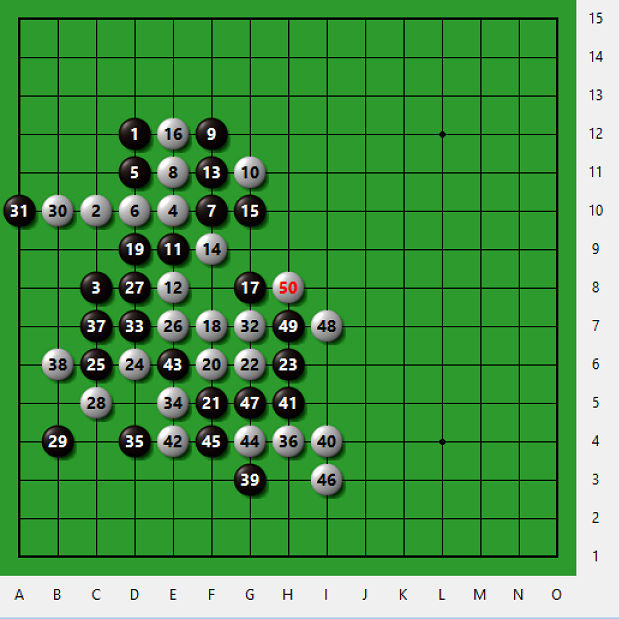 Other Information
Link to the discussion of the match on VK
Preparation
Yixin always puts the opening d12c10c8 when it is the tentative Black. That's the only opening preparation I made for the match. Apart from that, all the moves were analyzed during the games.
Depth
The average minimum depth of Yixin in the games with Nikonov and Makarov was about 18 and 15 respectively.